UNLEASH THE POWER OF GLASS NON-WOVENS
In the wall covering market, there is a continual introduction of innovative solutions. The Glass-based non-wovens are well established for use in wall finishing and renovation. The market is now taking further steps to meet the evolving needs of specifiers, applicators, converters, distributors, wholesalers and end users.

Advantages of these glass non-wovens for wall covering include smooth and pleasing surface quality, good mechanical strength, high dimensional stability, invisible seams, high strength, low VOC, and superior fire performance.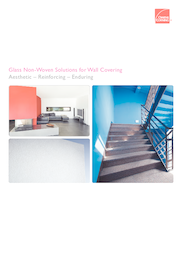 Related Tags:
Building & Construction