CEM-FIL™ CREATES A LANDMARK
Designed by Mumbai-based renowned architectural firm – Sanjay Puri Architects, 72 Screens is a landmark building in the Pink City of India, Jaipur. The futuristic building is designed in response to the excessive heat as Jaipur is a desert region with average temperatures ranging from 30 to 50˚C through most of the year. Also, it was necessary to have a product which could be installed quickly and with a finish requiring minimum maintenance.

Considering this, Cem-FIL™ Glass fiber Reinforced Concrete (GRC) was chosen as it is a proven material used to clad the facades of some of the world's most prestigious buildings. Read here how a trusted solution powered these aesthetics...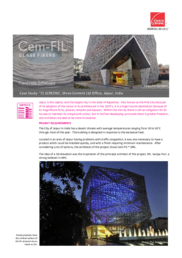 Related Tags:
Case Study | Building & Construction