Case Study: GFRP REBARS FOR TUNNEL LINING
Tunnel Boring Machines (TBM) are a marvel of today's civil engineering. Pre-cast steel reinforced segments, traditionally used for lining tunnels excavated with a TBM are being replaced with GFRP rebar alternatives. This breakthrough technology is being adopted at the execution of Italy's Milan Metro Rapid Transit Line which is scheduled to be completed by 2022.

Here's the case study that explains why GFRP rebar is a preferred option for pre-cast concrete tunnel lining.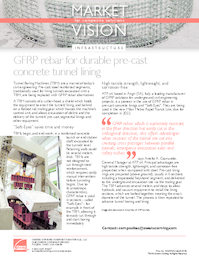 Related Tags:
Infrastructure | Case Study